About SASTA
Shrines and temples dedicated to Lord Ayyappa have been built all over the world including USA and Canada. The various abodes of Sri Ayyappa are attracting thousands of devotees year round. Sri Ayyappa Society of Tampa Inc. (SASTA) was formed in 2000 by several Ayyappa devotees in Tampa Bay area with a primary object of building an Ayyappa shrine with 18 steps and establish proper Ayyappa Pooja services. Registered in Florida (Tax ID# 59 - 3682469) as an independent religious organization, SASTA is conducting Ayyappa poojas and various cultural as well as educational events so as to promote the awareness of Dharma Sasta.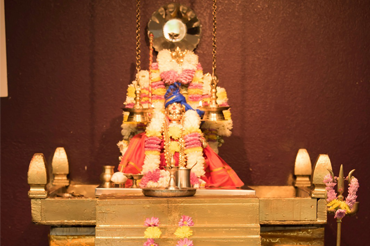 Sri Ayyappa Balalaya
SASTA, inc., is very happy to inform all Sri Ayyappa Swami Devotees that a sacred Balalaya has been established at Tampa, Florida. We had brought a Pancha Loha vighraha of Sri Ayyappa Swami for our regular worship services. After a bhoomi purification pooja, Ganesha homum, Navagraha homam and Kalasa pooja, the Balalaya prathishthapana was done; following Agama sastra procedures on Sunday 17th of April, 2011 between 11 am - 12 noon (corresponding to Khara nama Samvatsara, Meda maasa, ravi vara, Chitra poornima day during Mithuna Lagnam). A large throng of devotees were present for the memorable historic function.